Birdfeeding: A Hobby for All Seasons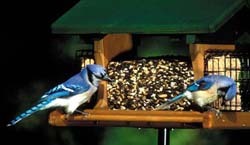 There's an urban myth that says people should not feed the birds year-round because it will make them lazy or too dependent on food offered at feeders.
In truth, there's no reason, or season, you should stop feeding your birds. After all, food offered at feeders only makes up about 10 to 20% of a bird's diet.
During winter, food is scarce and birds fed in these harsh months are more likely to survive to raise their young in the spring.
Birds that are fed during nesting season spend less time away from their nests looking for food.
During summer, many food sources are still growing and providing food allows birds to teach their fledglings where and how to feed. In the fall, you can provide food for migrating birds and help over-wintering birds prep for the tough months ahead.
Birds with year-round access to abundant food supplies, such as backyard feeders, can spend more time doing activities that enhance their health like preening, nesting, molting and being more alert of predators.
So stop by the store for the best prices on the best birdfood in town. We will help you enjoy your birds more and make their lives a bit easier, and that's a very good thing.